Here's the first installment of my weekly reading update! I've decided to do this every week this year, to better keep track of not just what I've read (Goodreads does a good job of that), but my reading experience.
READ: The Strain | Guillermo Del Toro & Chuck Hog
an
My main goal for this first week of reading was to finish
The Strain
, as we are having our book club meeting for it tonight! Also, once I finished this one last Thursday, I didn't really want to start any new books, so that this would be fresh in my mind still. My first reaction to
The Strain
was that it reminded me quite a bit of Michael Crichton, with a mix of science, history, and myth. The first part is a bit slow-going, as you try to figure out what's going on: what does a myth about a giant man have to do with a death camp during WWII? And what do those have to do with the mysterious deaths of 200+ people? Once things started to connect, though, I was hooked, and couldn't stop reading! The myth and virus are both fascinatingly original takes on what has become standard fare in recent years, and the characters are engaging - you really start to care about what happens to them. I can't wait to read the next 2 books in this new series. The only thing I disliked: like many books in a series,
The Strain
didn't really have an *ending* - it just sorts of stops and waits to be picked up in the next book. I find this to be incredibly frustrating, as there are no real conclusions, but I tend to be slightly more forgiving of this when I like the book. So I will just say, it annoys me, but I'll live with it, and read the next books when they come out. :)
READ: The Hunger Games | Suzanne Collins
This was one of my favorite books that I read last year, and I have been patiently waiting until the new year to re-read it. It is just so heart-breaking and touching and energizing and interesting. And I find it's a hard book to tell people about, because at face-value, it sounds so sad: in a dystopic future version of America, kids from across the 12 districts are send into a horrific game in which they must kill each other to survive. All of this is televised for the enjoyment of those who live in the luxury of the Capital. But really, it's about fighting back, standing tall when people try to push you down and control you. It's about surviving through experiences that would cause others to collapse in despair. It's about finding people to care about, and then sticking by their side, no matter what.
STARTED: Housekeeping Vs. the Dirt | Nick Hornby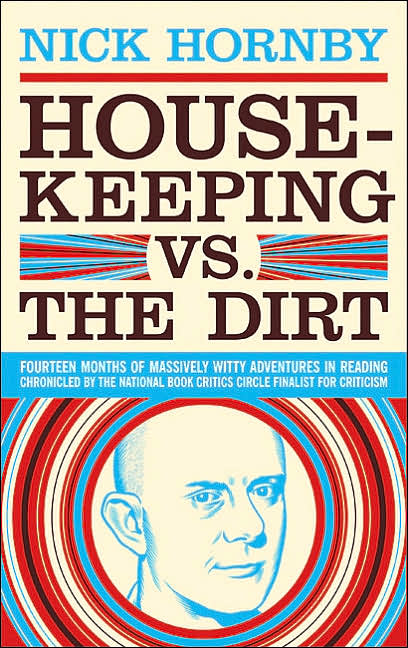 I never really run out of things that I want to read, but I find these essays by author Nick Hornby about what he is reading to be fascinating. Last summer, I read his first collection of essays
The Polysylabbic Spree
, originally published in the monthly magazine
The Believer
, and found them to be funny and smart, just as Hornby's novels are. His book recommendations are compelling, because he not only tells you about a book, but describes his experience while reading it and why he likes it. After reading his first book, I immediately wanted to read this second one, but it got pushed down the stacks for a while. This one is a great one to read bits of here and there. I stick it in my purse, and end up reading it everywhere. Stuck at a read light? Waiting for a print job to process at work? Bored during a commercial break? I pull this out and read a paragraph or page or two. So far, I've read the first 2 essays, and I've added the following books to my to-be-read list, as well as to my nick-hornby-recommends shelf on Goodreads:
>> Fatherland -
Robert Harris
>> Little Children
- Tom Perrotta
>> Assassination Vacation
- Sarah Vowell
>> Early Bird
- Rodney Rothman
That's it for last week! Next week, I will be digging into my Lost Lit List, starting with
The Third Policeman
by Flann O'B
rien
,
The Invention of Morel
by Adolfo Bioy Casares, and
A Brief History of Time
by Stephen Hawking. Wish me
luck! :)